---
Diversifying London's Theatre Boards For Us By Us // Beyond the Canon // ADF Talks Brexit // Black Lives, Black Words // Black Lives, black words, part II // Who's next? - Conference
Artistic Directors of the Future, in association with Independent Theatre Council and Battersea Arts Centre present a unique event 'Diversifying London's Theatre Boards', hosted at the National Theatre on Tuesday 15 November 2016.
Lets stop talking about change and bring together a group of people who want to make change happen. For the first time we will bring together our ADF members and the London Theatre Boards and Directors for an action focused conversation about the barriers that prevent the diversification of London's theatre boards and to develop possible strategies as to how London theatres and Artistic Directors of the Future can work together to support the implementation of sustainable change to London theatre boards, as well as succession plans in the case for diversity, in the near future.
This event includes provocations from guest speakers: David Bryan (Managing Director, Xtend UK Ltd & a member of Arts Council England's National Council), Afreena Islam (Trustee, Contact Theatre) and Beverley Mason (Director/Producer, Medar Pysden).
This event aims to demystify how Board of theatres work and to take action to diversify their membership and network.
In the spirit of strengthening our ADF Family,

Artistic Directors of the Future

present...

'FOR

US

, BY

US

':

a week of workshops, debates and play readings/performances facilitated by ADF members for BAME practitioners at Theatre Royal Stratford East, from

8-13 November 2016 at Theatre Royal Stratford East.
If you are intersted in any of the For Us By Us events listed below, please contact the Artistic Directors of the Future Team by emailing adofthefuture@gmail.com
TUESDAY 8 NOVEMBER 2016
TIME: 7-9PM
How to make the most of International Conferences with Ria Parry and Gbolahan Obisesan.
Ria and Gbolahan recently spent time in Toronto, Canada, for an international gathering of diverse and dynamic artistic leaders entitled 'ThisGen.' The group was made up of artists from the UK, USA, Canada, Nigeria and Turkey. They were brought together to have conversations about diversity, to build an international network, and to engage with the question 'What's next for theatre?' In this session Ria and Gbolahan will discuss their time in Toronto, answer any questions, and facilitate a 'Long Table discussion' around diversity in UK arts. The Long Table format is a provocative, experimental, non-hierarchical format for dialogue. For more information on ThisGen and the Long Table format, please see
www.thisgen.org
Fee: Pay What You Can
____________________________________________________________
WEDNESDAY 9 NOVEMBER 2016
TIME: 7-9PM
Edinburgh Fringe: Routes and Reasons with Ailin Conant
The most sensible, calculated, and rational advice on taking a show Edfringe is: Don't. But we're not sensible people, and we're probably going to go ahead and do it anyway, so I'm offering this workshop to chat through taking a show to Edinburgh based on my experience of taking 4 shows over 5 Edfringes, both as a Freelancer and AD. The workshop scope is limited to my experience, which covers a range from the scrappy self-funded show that plays to 20 people, to the foundation-funded sell-out with equity contracts. In this practical workshop I'll chat through budgets, venues, marketing, contracts, and most importantly artistic and organisational aims and goals so you can plan your festival with a clear sense of what you're there to do, and how best to go about doing it.
Fee: Pay What You Can
_____________________________________________________________
THURSDAY 10 NOVEMBER 2016
TIME: 4-6PM
Stories from emerging female leaders with Jade Lewis and Yolanda Mercy.
Are you an emerging female leader?
Got ideas for projects you want to make, but don't know how to?
Or are you balancing working a full time job, and trying to pursue a career in the arts?
Well this session could be for you. Jade Lewis and Yolanda Mercy are back with another female practical female led session, which will involve a panel discussion and practical tips on leadership.
We will cover:
• Accessibility
• balancing work and family
• how we're seen and treated and maybe what we feel needs to change in order to be supported
• Tangible steps on how to be a leader (attached to a building and independent
Interested?
Fee: Pay What You Can
_____________________________________________________________
THURSDAY 10 NOVEMBER 2016
TIME: 7-8.30PM
A View of Her Own Beauty-play development workshop with Sandra Thompson-Quartey.
Are you
#
TeamNatural
? What does that mean?
Join us in the development of, A View of Her Own Beauty, a short play written by Kalungi Ssebandeke and directed by Sandra Thompson-Quartey, Artistic Director of Writers Avenue. The play was first performed at ADF's
Black Live, Black words
event at The Bush in 2015 and later at The Bussey Building as part of Melanin Stages; Initiative DKF festival.
Sandra is now working with the writer to develop the script into a full length play with the view of a 4 week run in 2017. A View of Her Own Beauty explores the perceptions of cultural standards of beauty, cultural appropriation and discrimination based on hair.
The debate on black hair is a trending topic in online and social media. Are weaves, relaxers and wigs simply a fashion choice or form of self-hatred or are their shades of grey? Is natural hair a political statement? Is there a racial bias in relation to beauty, is there a 'mainstream beauty' and are there negative self-evaluations after exposure to it'?
The workshop takes form as a staged reading of the short play followed by feedback forms and a discussion on the play, the themes and personal experiences, which will all be fed back to the Writer. We welcome a very mixed and vocal group who will contribute their opinions to the discussions.
Fee: Pay What You Can
_____________________________________________________________
FRIDAY 11 NOVEMBER 2016
TIME: 7PM ONWARDS
A Year In The Life of ADF
Join us as we celebrate all that has been achieved in ADF this year while raising a glass to the future. There will be a short presentation followed by an opportunity to network with other members of ADF in an informal setting.
Free Event!
This event is open to ADF members and anyone who has worked for ADF
_____________________________________________________________
SATURDAY 12 NOVEMBER 2016
TIME: 2-4PM
Make your own work! With Tessa Hart
An insight into creating your own projects and self-producing as well as starting and running creative enterprises, run by Tessa Hart (Co-Founder & Artistic Director of The Bread & Roses Theatre and Goblin Baby Theatre Co.).
Fee: Pay What You Can
_____________________________________________________________
SUNDAY 13 NOVEMBER 2016
TIME: 1-4PM
Producers Who Are You? With MEZ.
Have you ever wanted to work with an experienced BAME theatre producer but wondered who they are?
Are you are a BAME Producer who would like more people to know about your work, or just looking to meet more BAME Directors and Artists?
Whether you are extremely experienced or emerging, Who Are You?/ Fancy A Cuppa And A Catch Up, is an informal relaxed get together that aims to identify and recognise BAME Producers, share skills and knowledge and hopefully forge new creative relationships and contacts which may lead to some excitingly interesting work. Together we can radically change the face of British Theatre.
FREE EVENT FOR BAME PRODUCERS AND ADF MEMBERS
_____________________________________________________________
SUNDAY 13 NOVEMBER 2016
TIME: 4PM
Raise your voice: how to be heard online with Tutku Barbaros and Lee Fairweather (Film Blogger/Critic)
Online spaces are available to us all but how can we use social media to create an online family, raise our voices , and ultimately trigger a movement?
Sharing our experiences as BAME bloggers & creatives - on a mission to take up space - we'll be sharing advice on how to get the most out of your online persona (from tweeting tips to battling trolls) as well as focusing on the positive effect social media can have on BAME representation.
Fee: Pay What You Can
_____________________________________________________________
SUNDAY 13 NOVEMBER 2016
TIME: 6-8pm
"Re-imagining Shakespeare and the Classics" with Jonathan Man
Freelance theatre director, and the previous co-Artistic Director for Yellow Earth, Jonathan Man has reimagined and directed classic plays for various audiences, young and old, in the UK and China. His practice is inspired by Chinese chulture and intercultural practitioners such as Peter Brook, and also by approaches which were championed by Joan Littlewood that draw on a company of actors' personal experiences.
This year is the 400th anniversary of William Shakespeare's death. The session will start with introductory exercises so that even those who have never tackled the classics before can use to unlock a text and feel empowered to attack this with confidence. Using three case studies, two Shakespeare's and one Greek play, Jonathan will show how these have been reimagined.
In the second part of the session, participants can share their experiences, ideas and aspirations in a safe and supported environment.
Fee: Pay What You Can

BEYOND THE CANON - STATESIDE
We are thrilled to announce that our next Beyond The Canon event will take place at Chicago Dramatist on the 16 October 2016. Watch this space for more info!
---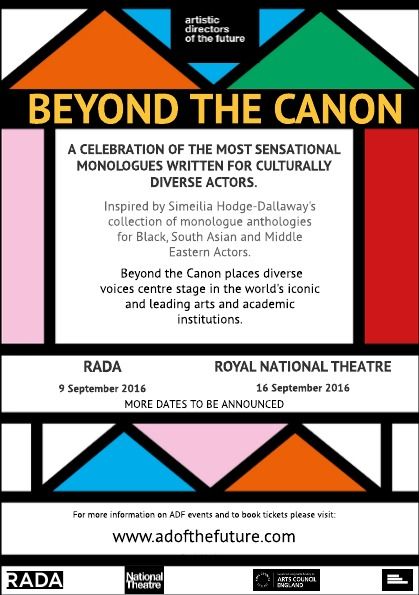 Beyond The Canon
Launch Event
Venue: Royal Academy of Dramatic Art (RADA)
Date: Friday 9 September 2016
Time: 7.30pm - 10.00pm
An evening of monologues selected from the anthology performed by RADA students and alumni, directed by members of the Artistic Directors of the Future in RADA's Jerwood Vanbrugh Theatre.
To book tickets, please contact the RADA box office in person or by calling 020 7908 4800.
---
Beyond The Canon Experience
Venue: Royal National Theatre: Clore Learning Centre
Date: Friday 16 September 2016
Time: 1pm - 9pm
Beyond the Canon Experience: an interactive art installation that enables the public to engage with the monologues featured in Simeilia Hodge-Dallaway's anthologies in new and exciting ways. During this experience, the public will have the opportunity to join the conversation through a series of group games to unlock the hidden gems which exist outside of the classical play canon, problem solve some of the arts industry's biggest issues around visibility and accessibility of diverse work, as well as help to write a universal manifesto for academic and arts institutions across the world.
Followed by performances of monologues featured in Audition Speeches for Black, South Asian and Middle Eastern Actors and The Oberon Book of Monologues for Black Actors: Classical and Contemporary speeches from Black British Plays.
Ending with a long table discussion: a dinner party structured by etiquette where conversation is the only course. .
Click here to book tickets for Beyond the Canon at the National Theatre.
---
Beyond the Canon will give light to some of the very best contemporary playwrights from across the world and their plays which have not only given a voice to actors of colour but have challenged perceptions and enlightened the souls and minds of theatre-going audiences everywhere.
This celebratory project aims to raise awareness and stimulate the discussion around the value, accessibility and visibility of culturally diverse work, diverse representation onstage and offstage in the arts and education sector.
ADF Directors featured in the Beyond the Canon project include: Poonam Brah, Titas Halder, Tessa Hart, Simeilia Hodge-Dallaway, Suzann McLean and Linda Miller.
---
Interested in becoming a Beyond The Canon Partner?
We are looking for theatres and academic partners worldwide to host a one-night event during September to November 2016 to showcase some of the most groundbreaking monologues featured in the monologue anthology: Audition Speeches for Black, South Asian and Middle Eastern Actors and/or The Oberon Book of Monologues for Black Actors. . For further information, please contact Simeilia Hodge-Dallaway by email at adofthefuture@gmail.com
More 'Beyond the Canon' dates to be announced
---
Artistic Directors of the Future (ADF)
presents
ADF Talks Brexit: Brexit Britain and the Community
Friday 29 July 2016, 5 - 10pm
Theatre Royal Stratford East
Followed by
ADF Talks Brexit: Brexit Britain and the Arts
Monday 1 August 2016, 2.00 - 10pm
National Theatre
What does Brexit mean to BAME Londoners? What does it mean to BAME artists? It scares us, but it won't stop us. The politicians have spoken, now let the artists respond.
Artistic Directors of the Future (ADF) present ADF Talks Brexit an artistic response to the recent controversial EU referendum results. This two day event will feature new writing by the brightest of today's BAME talent, directed by resident ADF directors, panel discussions with artistic and academic leaders, film screenings as well as an exhibition, all ultimately asking: Brexit Britain: Where do we go from here?
With a sudden and alarming spike in racially motivated crime across the UK, threats to cut art from mainstream education and the global message that only a limited few are 'welcome', we aim to provide a platform to the many unheard and silenced voices. To shed a light on how issues such as these have impacted those who understand, live and work in these communities and most importantly, what can be done to resolve these issues.
Staged in two contrasting yet dynamic parts of the city, both with a rich theatrical and cultural legacy, we will investigate the question from two different perspectives. The event will open at Theatre Royal Stratford East exploring Brexit Britain and the Community, with a verbatim scratch performance inspired by real post-Brexit stories followed by an event at National Theatre, Brexit and the Arts which will feature performances by BAME writers and panel discussions. ADF hopes that by providing a safe space for many voices to be heard, it will empower others to engage in the discussion and encourage a collaborative approach to change.
***
"An essential alternative to the tried and tested and often stereotypical narratives" Cook N Curry on Black Lives, Black Words, March 2016
ADF Talks Brexit includes short plays from the following playwrights:
Hassan Abdulrazzak, Elizabeth Alabi, Milli Bhatia, Hannah Khalil, Yolanda Mercy, Daniel York, Firdos Ali, Vinay Patel, to name but a few.
To Book Tickets
ADF Talks Brexit Brexit Britain and the Community.
Friday 29 July 2016. Theatre Royal Stratford East.Gerry Raffles Square, London E15 1BN.
5.00pm - 10.00pm I An evening of short film screenings, panel discussions and a verbatim performance inspired by real post-Brexit stories. £5 entry.
To book tickets for Brexit Britain and the Community, please click here
ADF Talks Brexit Brexit Britain and the Arts.
Monday 1 August 2016. National Theatre, Upper Ground, London SE1 9PX
2.00pm – 10.00pm | A full day of panel discussions, film screenings, installation art and live performances. £5 entry.
To book tickets for Brexit Britain and the Arts, please click here
---
London Premiere
BUSH THEATRE

Ten fifteen-minute staged readings from ten of the most exciting black British playwrights.

Directed by ADF directors and associates.

The play series is tied in with a shared project initiated by the award -winning American playwright Reginald Edmund, who produced the USA premiere at the Greenhouse Theatre in Chicago in July 2015. Black Lives, Black Words aims to explore the black diaspora experiences in some of the largest multicultural cities in the world, Chicago, Minneapolis, Cleveland, Baltimore and London to investigate the question,</taller>


'Do black lives matter today?'
This project will serve as a comparative study to raise awareness of the shared and different transatlantic experiences in the black community and evaluate the impact it has had on the black community at large.
---
Stripped Black by Firdos Ali / Directed by Rae McKen
In London 2015 UK born Kinsi is struggling to complete her exams when her Grandmother announces her sister has made her way from Somalia to the Calais refugee camp and needs her help. Is there any way to help her sister get to the UK?

Aicha Kossoko (AYAYO)
Tracy Green (KINSI)
Nahel Tzegai (MARWA)
Watch Stripped Black Video
---
Left Hangin' by Trish Cooke / Directed by Milli Bhatia
A black mother grieves the hanging of her son and questions the level of police involvement to determine what happened on the night of her son's death. To the police it is an open and shut case – a suicide of a black 23 year old male but the mother believes that it isn't a suicide.

Martina Laird (CELIA)
Helen Watkinson (SARAH)
Luing Andrews (MICK)
Ashley Gerlach (KANE)
Ben Cawley (ZEB)
Stephen Lloyd (POLICEMAN/OFFICIAL)
Watch Left Hangin' Video
---
Fathers' Day by Max K / Directed by Roy Alexander Weise
Urma and Philip have come to their Father's grave, to prepare the ground for the first anniversary of his burial. Their Father has been murdered during a racist attack and still nobody has been charged. As the storm clouds gather over Kensal Green Cemetery, West London, Urma and Philip are confronted with the reality that Black lives can mean so little.

Frances Ashman (URMA)
Joseph Kwame Bentil (PHILIP)
Watch Fathers' Day Video
---
Thanks For Coming by Theresa Ikoko / Directed by Nicole Charles
No one ever listens... Now people are going to listen to Shandra... And Shandra has something to say... She thinks... Maybe... It's all written down... She has a plan.

Kaysha Woolery (SHANDRA)
Watch Thanks For Coming Video
---
Black Attack Written and Directed by Tristan Fynn-Aiduenu
Black Attack is A SWAT-like team of young Black British revolutionaries/ performance artists. They aim to galvanize the different generations to join their cause of black embetterment. However there is dysfunction in the group when motives are questioned and personalities are revealed.

Lola May (EBONY) Abdoulie Mboob (JETT) Seraphina Beh (SPACE) Stanley A.Jackson III (ABYSS) Cheyenne De-Souza (NOIR)
Watch Black Attack Video
---
Patience by Oladipo Agboluaje / Directed by Erica Miller
Patience explores the meaning of love among black people in twentieth century London.

Marlon G Day (HISTORY) Rhoda Ofori-Attah (HERSTORY) Emerald Crankson (NARRATOR/WAITRESS/VIDEO GIRL)
Watch Patience Video
---
Here They Come by Gbolahan Obisesan / Directed by Nazli Tabatabai-Khatambaksh
A response is needed to the crisis situation in Calais. Two government representatives wrangle with how much of what they know and feel is necessary to share with a community village meeting of concerned locals.

Arinder Sahdar (SPIN DOCTOR)
Rochelle Rose (NATURALISED IMMIGRANT)
Hayat Kamille (AGITATOR)
Luing Andrews (AGITATOR)
Watch Here They Come Video
---
View of her own Beauty by I.K. Ssebandeke / Directed by Sandra Thompson-Quartey
Man wants to mould Woman into an image of natural beauty. Woman knows something Man doesn't. A lyrical and poetic short play about black hair and what it means.

Hermeilio Miguel Aquino (MAN) Toyin Ayedun-Alase (WOMAN)
Watch View of Her Own Beauty Video
---
BLACK LIVES, BLACK WORDS PART II
Friday March 4th 2016
All of the Colours - Written and Performed by Davina Cole, directed by Miranda Cromwell
Watch All of the Colours Video
---
Prodigal - Written by Sharmila Chauhan, directed by Lakesha Arie-Angelo

Anita - Joy Uwajeh (Daughter)
Elizabeth Uter ('Mother')
Paul Foulds ('Father')
Watch Prodigal Video
---
Timbuktu - Written by Ryan Calais Cameron, directed by Anthony Nyagah

Dan Jay Green - TJ
Eddie Kagutuzi - Daniel
Hindolo Koroma - Cory
Victor Alli – Ishmael
Watch Timbuktu Video
---
Here Comes the Bride - written by Milli Bhatia, directed by Anastasia Osei-Kuffour

Khadija: Cassie Layton
Watch Here Comes the Bride Video
---
How to Make Love to a Muslim without Freaking Out - written by Omar El-Khairy, directed by Taio Lawson

Woman 1: ABI CORBETT
Woman 2 : CASSIE LAYTON
Woman 3: SANDRA REID
Watch How to Make Love to a Muslim Without Freaking Out Video
---
What would Quentin do? - written by Deborah A. Williams, directed by Brigitte Adela

Endy McKay - Sandra
Claire Cartwright- Ariel
Miles Mlambo - David
Watch What Would Quentin Do Video
---
His Life Matters - written by Yolanda Mercy, directed by Linda Miller
Watch His Life Matters Video
---
Manifesto - written by Courttia Newland, directed by Tarek Islander

Khali Best
Tosin Cole
Bola Okun
Theo Solomon
Watch Manifesto Video
---
WHO'S NEXT? - CONFERENCE
9th of September 2015
Watch the Trailer
Morning Session
---
10.00 – 10.10
Introduction by Simeilia Hodge-Dallaway

10.10 – 11.30 - Panel 1
Freelance Director Experiences
Pooja Ghai
Ria Parry
Jonathan Man
Gbolahan Obisesan
Tarek Iskander
Chaired by ADF international collaborator Ravi Jain.

11.30 - 13.30 - Panel 2
Pathways to becoming an Artistic Director
David Lan (Young Vic Theatre)
Vicky Featherstone (Royal Court Theatre)
Sarah Frankcom (Royal Exchange Theatre)
Purni Morell (Unicorn Theatre),
Kerry Michael (Theatre Royal Stratford East)
Madani Younis (Bush Theatre)
Chaired by ADF associate, Jonathan Man.

Break (45 mins)
Afternoon Session
---
14.15 – 15.45 - Panel 3
Who governs the governance?

Sir William Atkinson (Chair, Lyric Hammersmith)
Jennette Arnold(Trustee, Royal Court Theatre)
John Langley (Chair, Unicorn Theatre).
Chaired by ADF associate, Matthew Xia (Royal Exchange Theatre).

15.45-16.30 - Panel 4
ADF onwards and upwards
What's next?
How can we help you?
Progression plan discussion with Simeilia Hodge-Dallaway.
End
---